The Best Commercial Roofer to Protect Your Business
When your commercial roof needs attention, you need a commercial roofer in Walnut Creek to work quickly yet effectively. Every commercial building requires regular maintenance to provide the best work or office environment. One of the most critical components to pay attention to is the roof, which is responsible for maintaining the structure and stability of your building. Without a durable roof, your building is susceptible to hail, rain, wind, or other weather conditions. The Apollo Roofing Company team is your local commercial roofer with the knowledge and expertise to get the job done in the most efficient way possible.  
Other Commercial Roofing Contractors Can't Compete With Our Superior Service
As a top-rated roofing company in San Francisco that leads the way for commercial roofing services, we recognize the value of maintaining every type of commercial roof, including:  
Shopping centers

 

Office buildings

 

Private and public schools or universities

 

Hospitals

 

Public facilities

 

Industrial buildings

 
Whether you are responsible for a small building or a large company, you can trust the Apollo Roofing Company team to have the equipment necessary. Our commercial roofing contractors provide clients with affordable options and step-by-step evaluations.  
We use modern practices to keep your roof up to date and durable. If installed and adequately maintained, a commercial roof can last decades, saving you money and unnecessary hassle. 
The Commercial Roofing Company That Builds To Last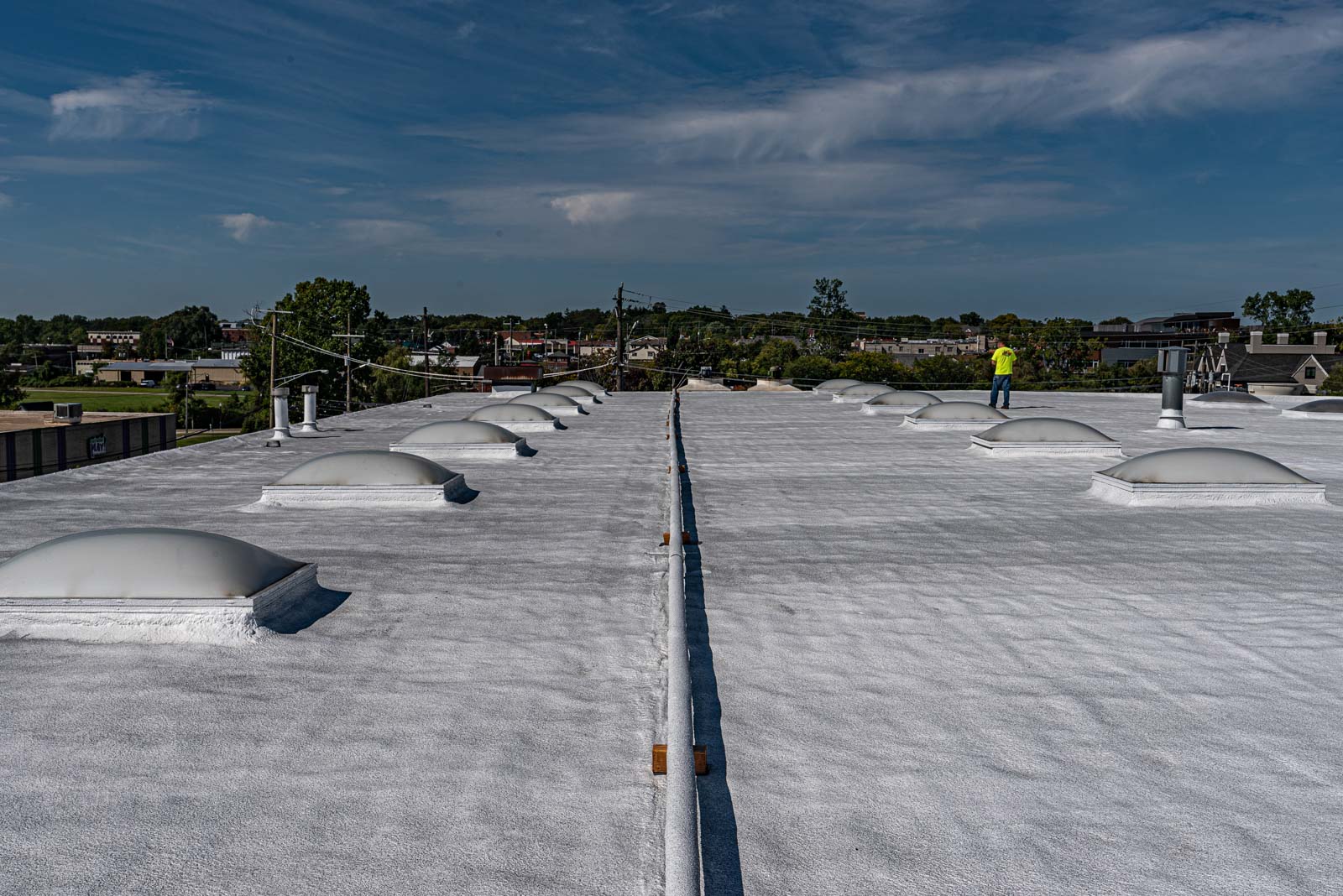 A good roofing company will get the job done. A great company will focus on the details to exceed your expectations. Apollo Roofing Company has a goal of doing more than just completing the job, whether it is a commercial roof replacement or simple repair.   
Whenever your roof needs work, whether commercial or residential, it can be an unpleasant or frustrating experience. Our goal is to reduce stress by keeping you constantly informed of progress while providing a friendly experience.   
We are proud to offer a variety of commercial roofing services to fit every need, such as:   
Roof leak repairs

 

Roof replacements

 

Roof inspections

 

Annual roof maintenance

 
We focus on what your commercial roof needs and quote you the best price possible. We will only recommend total replacements if we believe they are vital. We also provide routine maintenance and inspections to prevent potential issues and ensure stability.  
One of the biggest problems faced by those looking for commercial roof services is paying too much. Apollo Roofing Company understands because we are responsible for maintaining our roof, too! That's why when we complete inspections, we gather every necessary detail about what your roof needs and review it with you to come up with the best quote.   
You won't have to worry about overpaying for inadequate work. We pride ourselves in our ability to attend to your commercial roof in the most professional and efficient way possible. You can always get in touch with us for any commercial roofing inquiries that you have.
When it comes to working with the top rated commercial roofer in Walnut Creek, look no further than Apollo Roofing Company.